[Back to Early 15th Century Italian Legs Armour Page]
Early 15th Century Italian Legs
This is based on the statue of 'Orlando' in Dubrovnik by Bonino of Milan from 1413. A picture of the statue can be seen in The Venetian Empire, 1200-1670 (Men-at-Arms Series, Volume 210) by David Nicolle, Christopher Rothero (Illustrator); 48 pages; Paperback (July 1989) Stackpole Books; ISBN: 0850458994 .
You can also see a similar effigy on the Tomb of Giovanni Cose of Naples from 1418 in the Louvre. A picture of this appears in "The Sanctuary of the Madonna delle Grazie with notes on the evolution of Italian armour during the 15th century." by James G. Mann printed in "Archaeologia" Journal of The Society of Antiquaries of London 1930 Vol.80 pages 117-142. The picture is Figure 2 on Plate XXIII.
These are sized for someone between who's height is 5'8"/172cm to 6'2"/188cm and who's weight is 200lbs./91kg to 225lbs./102Kg.
Completed April 23, 2014
The poleyns / knee cops are made from 0.040"/19ga./1.0mm 4130 steel and the rest of the plates are made from 0.032"/21ga/0.8mm 4130 steel. The plates were heat treated to a Rc48 hardness by heating them to 1700F/927C and quenching them in water. The plates are then tempered at 500F/260C for 30 minutes. The plate were blackened with Sculpt Nouveau Black Magic. The brass is 0.040"/1.0mm half hard 260 brass. From what I've seen the plates should resist denting as well as unhardened mild steel 3 times their thickness.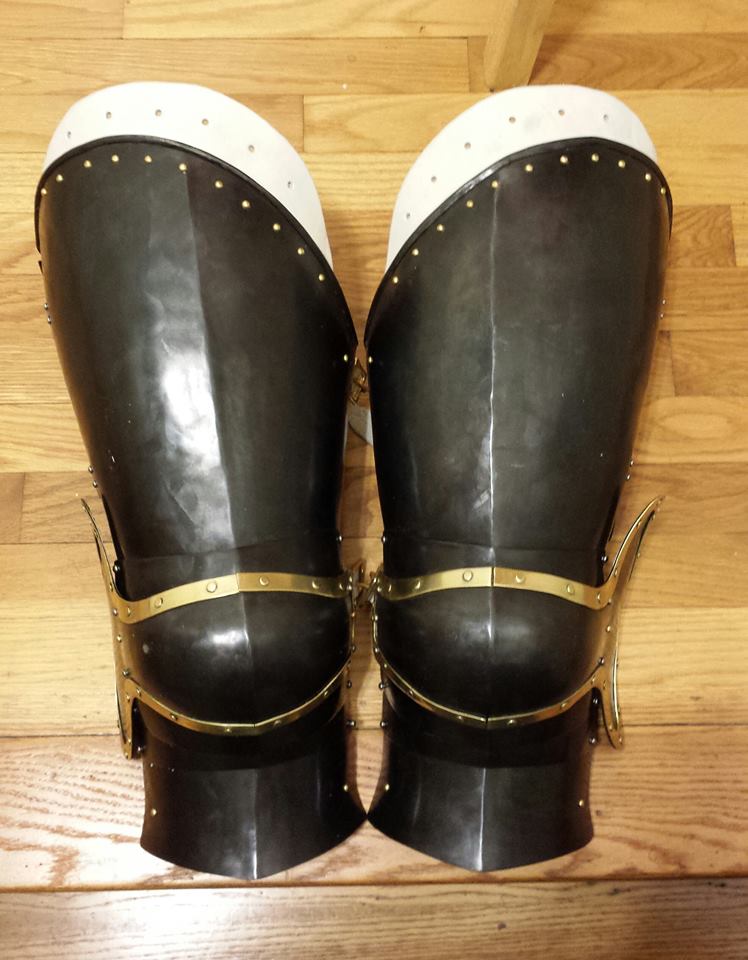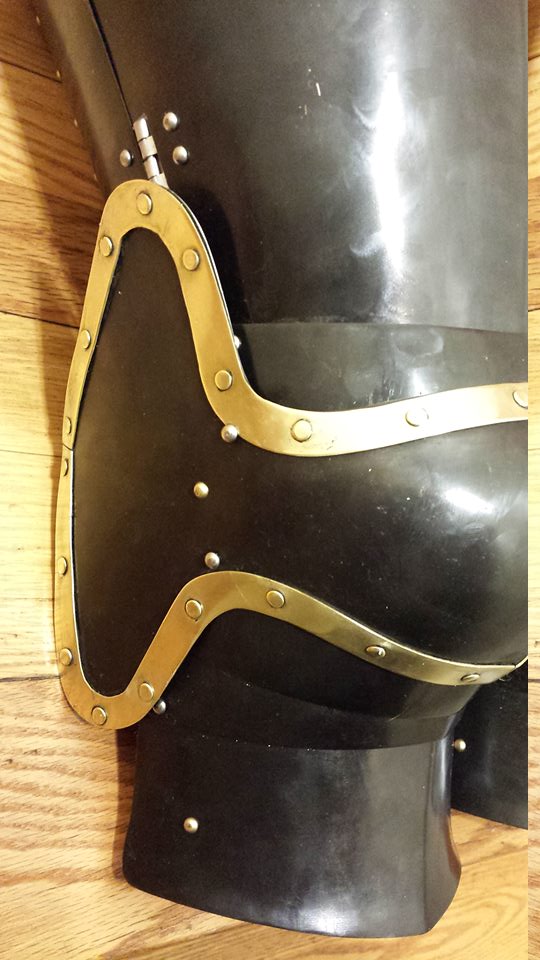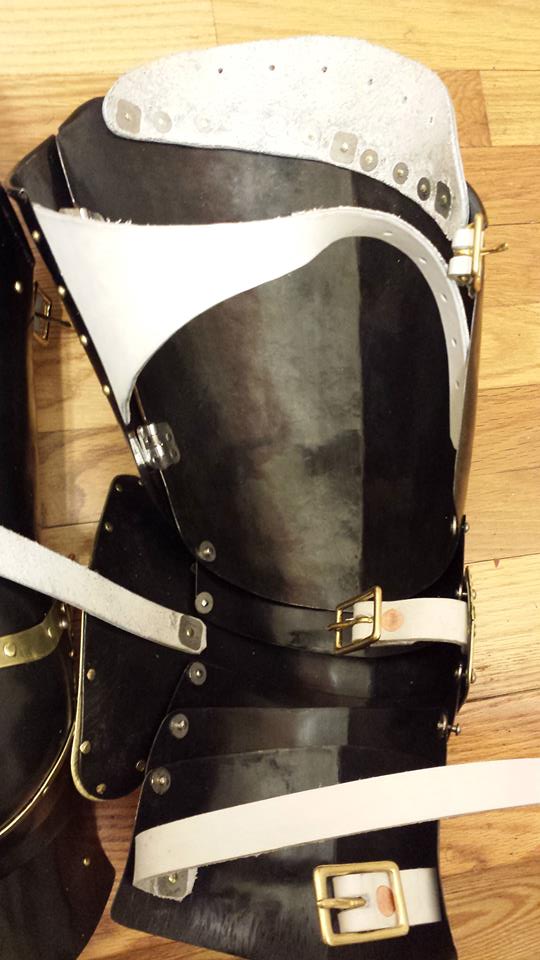 Patterns Used for This Project (Version: March 25, 2013)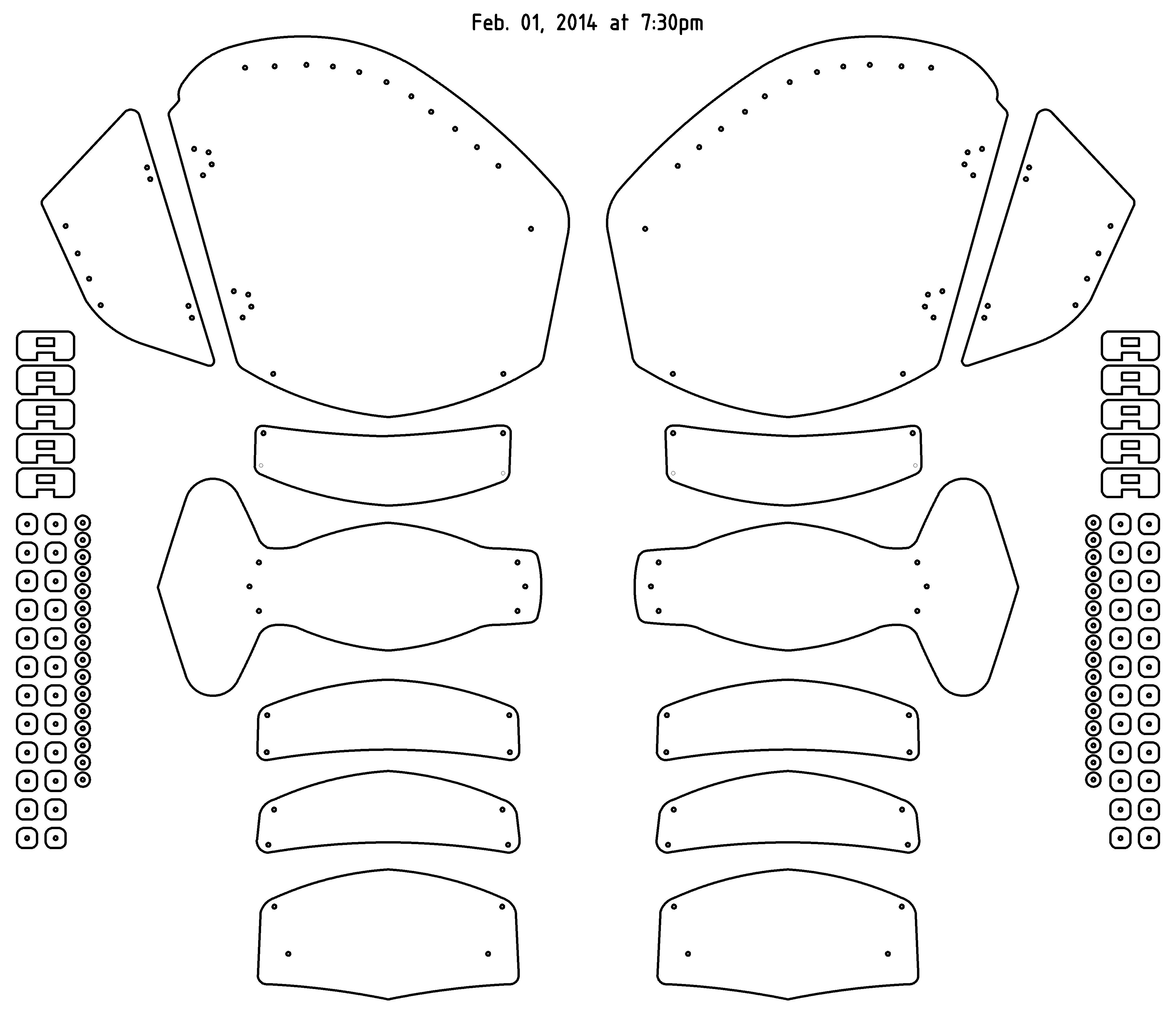 CAD DXF file of the patterns for the plates. You can use this file to machine cut the metal plates.
early_15thC_legs.dxf brass_trim_knees.dxf
[Back to Early 15th Century Italian Legs Armour Page]
Copyright 2017 Craig W. Nadler All rights reserved